• Download Audio File | Open Player in New Window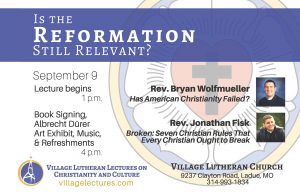 Guest Rev. Dr.  Kevin Golden, pastor of Village Lutheran Church in Ladue, Missouri, talks about the upcoming Village Lecture titled "Is the Reformation Still Relevant?" which will take place on September 9, 2017, at Village Lutheran Church and will also be livestreamed at facebook.com/thelcms. Rev. Bryan Wolfmueller, author of "Has American Christianity Failed?" and pastor of Hope Lutheran Church in Aurora, Colorado, and Rev. Jonathan Fisk, author of "Broken: Seven Rules That Every Christian Ought to Break" and program host at KFUO Radio, will present discussions on the Reformation's relevancy today. Both speakers will also be signing book, and Concordia Historical Institute will curate an exclusive exhibit of Albrecht Dürer prints. Learn more about this even at villagelectures.com.
---
Send in your family questions to Family@kfuo.org or call host Andy Bates at (314) 996-1519.
---