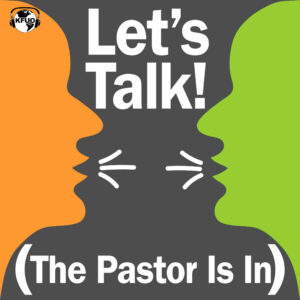 We welcome guest pastor Rev. Philip Zielinski from St. Paul Lutheran Church in Valley City, Ohio. He and host Kip Allen dive into the following questions:
From listener Kay Reed: Why do pastors take communion before the congregation?
What is the role of elders in communion distribution?
From a listener: What are some resources for a Lutheran teaching in a public school? How does vocation fit into this?
How do we respond to the LGBTQIA+ definitions?
How do we respond to people who say that if you oppose gay marriage you're a bigot?
Find the First Liberty resources for schools at firstliberty.org/rights/religious-liberty-protection-kit-for-students-and-teachers.
Find the Faith & Family episode "Christian Kids in Public Schools" at kfuo.org/2016/09/13/faf-2016-09-13.
Send us your questions! Email letstalk@kfuo.org with your questions for our guest pastors.
Music for "Let's Talk! The Pastor Is In" is Rev. Fred Baue's rendition of "All Glory, Laud, and Honor" on his album "The Great Dance, Church Music for Guitar." Find this album and more of Rev. Baue's music and books, including his latest, "The Pilgrim" at PergolaPress.com.