Guests Katherine (Kit) Auble – Director Fund Development and Marketing for Lutheran Elementary School Association, Devri Davis – parent from Word of Life Lutheran School in South City St. Louis, and Megan Arnold – Marketing & Admissions for Word of Life Lutheran School and school parent, talk about the importance of Lutheran education and also the upcoming Brew in the Lou. The 5th Annual Brew in the Lou Festival, sponsored by 103.3 KLOU to Benefit the Lutheran Elementary School Association, will be at Francis Park in St. Louis on October 14 from 1:00-5:00pm. For more information or to purchase a wristband, please call (314) 200-0797, or visit lesastl.org. Vendor applications are available at lesastl.org/news/brew-in-the-lou.
More than 9,000 children attend LESA member Lutheran schools in the St. Louis Metro Area, making Lutheran schools the second-largest private school system in the Bi-State area. A Recognized Service Organization of the Lutheran Church-Missouri Synod, LESA represents 31 elementary schools, four high schools and five related agencies. For more information and a list of member schools, visit LESAstl.org.
---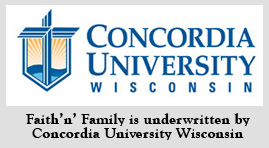 Send in your family questions to Family@kfuo.org or call host Andy Bates at (314) 996-1519.
---