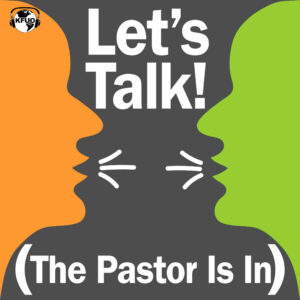 We welcome guest pastor Rev. Philip Zielinski from St. Paul Lutheran Church in Valley City, Ohio. He and host Kip Allen dive into the following questions:
From Jeff in Tampa: Tips or ways to help prepare for Sunday Divine service.
From Sarah: Preachers often mention that God (or Jesus) is with us in hard times. So how do we tell He is really there? Often, there is the sense of total isolation that surrounds every moment.
From Ryan in Atlanta: A friend recently posted on social media, "When we say we're waiting on God, He's usually waiting on us." I know this is not what we would teach in Lutheranism, but how would you address this?
Send us your questions! Email letstalk@kfuo.org with your questions for our guest pastors.
Music for "Let's Talk! The Pastor Is In" is Rev. Fred Baue's rendition of "All Glory, Laud, and Honor" on his album "The Great Dance, Church Music for Guitar." Find this album and more of Rev. Baue's music and books, including his latest, "The Pilgrim" at PergolaPress.com.