• Download Audio File | Open Player in New Window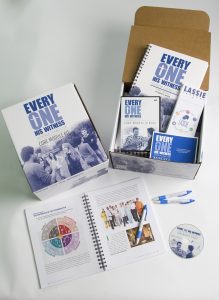 Guests Rev. Dr. Mark Wood, Director of Witness & Outreach and Congregational Revitalization for the LCMS Office of National Mission, Mary Ellen Wood, Volunteer for Every One His Witness, Shelley Moeller, E1HW workship participant, and Deaconess Maryann Hayter, Manager of Resource Production, Witness, Outreach and Revitalization for LCMS Office of National Mission, talk about Every One His Witness and the debut of the new kit! The Every One His Witness Lutheran evangelism program puts sound doctrine into practical action for sharing the faith with people in our everyday lives. Learn more about E1HW at lcms.org/witness-and-outreach-ministry and purchase your kit at cph.org/p-31879-every-one-his-witness-kit.aspx.
---
Send in your family questions to Family@kfuo.org or call host Andy Bates at (314) 996-1519.
---