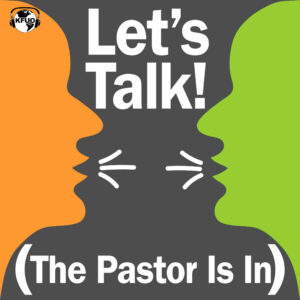 We welcome guest pastor Rev. Andrew Preus from Trinity Lutheran Church in Guttenberg and St. Paul Lutheran Church in McGregor, Iowa. He and host Kip Allen dive into the following questions:
Why do so many people get depressed around Christmas, which is supposed to be a happy time for family and the church?
How do we handle loneliness?
How do people without Christian faith fully understand creation?
How do we understand First Article gifts?
Send us your questions! Email letstalk@kfuo.org with your questions for our guest pastors.
Music for "Let's Talk! The Pastor Is In" is Rev. Fred Baue's rendition of "All Glory, Laud, and Honor" on his album "The Great Dance, Church Music for Guitar." Find this album and more of Rev. Baue's music and books, including his latest, "The Pilgrim" at PergolaPress.com.