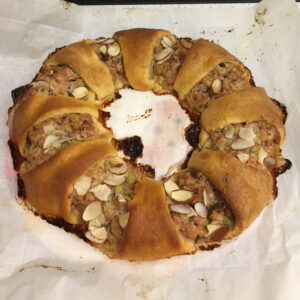 In their second episode, the Lutheran Ladies head down to the church basement for "Erin's Recipe Card," a segment celebrating classic recipes from Lutheran cookbooks. Taste-testing a vintage concoction of pineapple, tuna fish, and magical "goo" (that totally isn't a New England snack cake, despite what it sounds like), they learn how to "Ring It!" — and why it's always so important to let your fellow kitchen helpers know whether your contribution is actually a dessert or just a really fancy entree.
---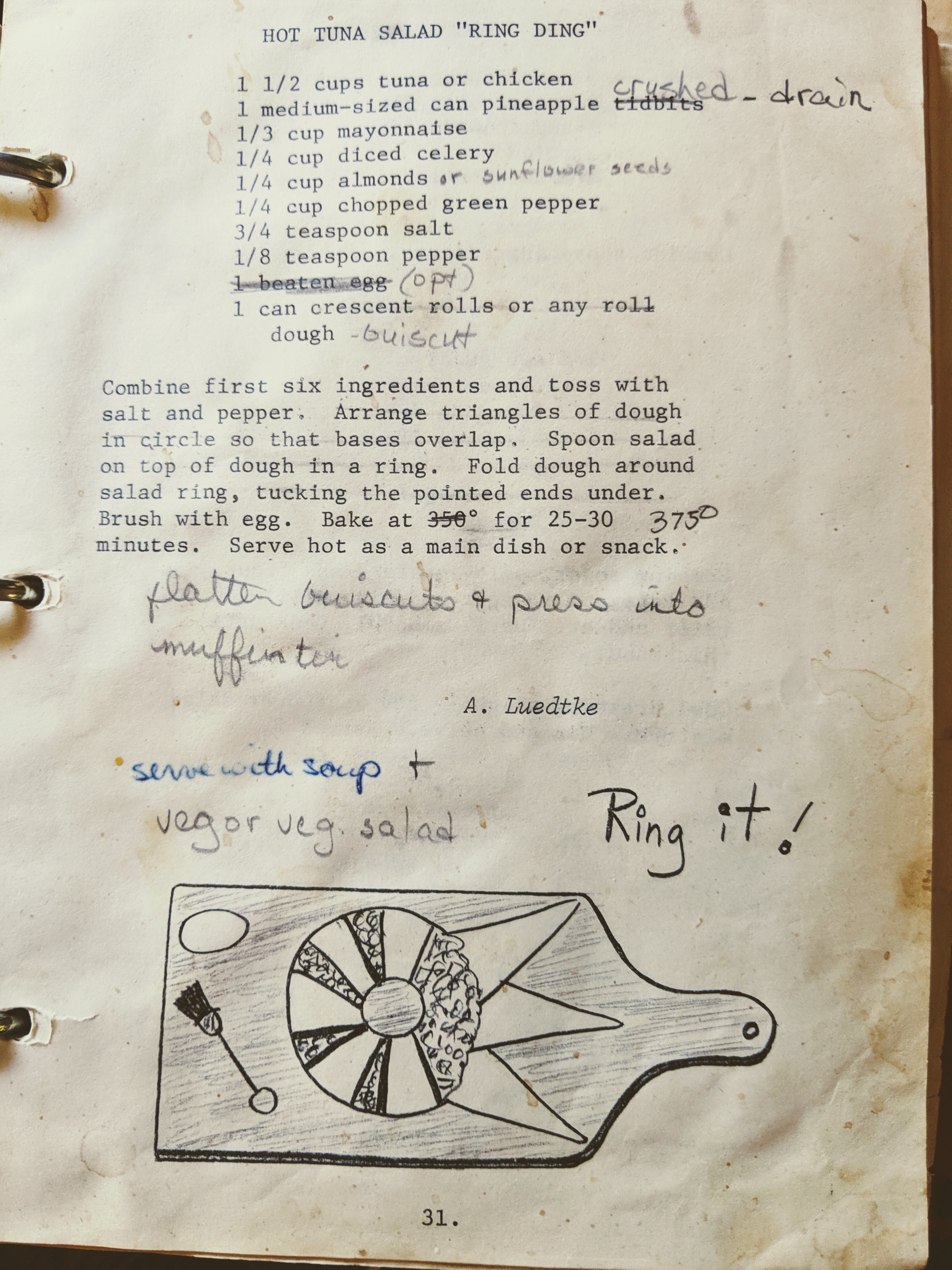 Hot Tuna Salad "Ring Ding"
1 1/2 cups tuna or chicken
1 medium can pineapple (crushed, drained)
1/3 cup mayonnaise
1/4 cup diced celery
1/4 cup almonds or sunflower seeds
1/4 cup chopped green pepper
3/4 teaspoon salt
1/8 teaspoon pepper
1 can crescent rolls or any roll dough / biscuit
(optional: 1 beaten egg)
Combine first six ingredients and toss with salt and pepper. Arrange triangles of dough in circle so that bases overlap. Spoon salad on top of dough in a ring. Fold dough around salad ring, tucking the pointed ends under. Brush with egg (optional). Bake at 375 for 25-30 minutes. Serve hot as a main dish or snack.
– A. Luedtke –
---
For bonus content from the show, including step-by-step instructions for trying Erin's featured recipe at home, join The Lutheran Ladies' Lounge Facebook discussion group (facebook.com/groups/LutheranLadiesLounge) and follow Sarah (@mrsbaseballpants), Rachel (@rachbomberger), Erin (@erin.alter), and Bri (@grrrzevske) on Instagram.
---
The Lutheran Ladies Lounge is the podcast produced by KFUO Radio and hosted by Sarah Gulseth, Erin Alter, Rachel Bomberger, and Bri Gerzevske. Created for Lutheran ladies to have a place to escape to with inviting conversations, laughter, and fellowship with Lutheran sisters, we invite all of you Lutheran ladies to join Sarah, Erin, Rachel, and Bri on the sofa in the Lutheran Ladies Lounge to sit, rest your feet, and stay a while. If you're a Lutheran lady, join us in our Facebook group: facebook.com/groups/LutheranLadiesLounge.