"Where are you God?" Real Grace in Times of Trouble.
Isn't it ironic that Christians, the very people who believe in God, can struggle to know He's there? We've all been there. What do you do when depression, disaster, or doubt creeps into your life? Join Pastor Dawit as he walks you through his own wrestling with the "hiddenness" of God in tough times, and how God's Grace intersected.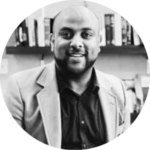 Bio: Dawit (David) Bokre serves as lead pastor of Good Shepherd Lutheran Church in Hayward, CA. Born and raised in Eritrea, he moved to the U.S. at the age of 13. In 2008, Dawit planted an Eritrean Lutheran Church in Hayward. He then completed his theological training and was ordained in 2016. Today, he serves English and Tigrinya speaking groups at his church. Dawit and his wife, Saron, enjoy meeting new people, good coffee and cooking.
---
Youth and adult sessions recorded at the 2019 LCMS Youth Gathering in Minneapolis, Minnesota. For more information about the Gathering, visit www.lcmsgathering.com.