Moving from Programs to Relational Ministry
Relational Youth Ministry is any step toward building a relationship with a student in your ministry.  It could be big, it could be small. Either way it's an effort toward truly living in community and sharing life. Commit to building this type of community with the students God has entrusted to you.  Find new ways to focus on building a relational ministry for your students to thrive in.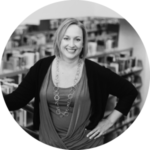 Bio: Rebecca is "DCE Mom" to four boys with her husband Kyle and serves as Director of the DCE Program at Concordia University Irvine.  Prior to CUI she served as a Director of Christian Education for 15 years in life-span education roles working with Children, Youth, Family and Older Adults throughout the country (Idaho, Kentucky, Arkansas, Florida).  Her service to the body of Christ includes speaking at youth gatherings, conferences and serving as Associate Director of Crosswise Institute.
---
Youth and adult sessions recorded at the 2019 LCMS Youth Gathering in Minneapolis, Minnesota. For more information about the Gathering, visit www.lcmsgathering.com.