Ministering to Youth In Crisis… without a counseling degree
You don't have to be a mental health professional to help troubled teens. You only need a deep commitment to Jesus, love teenagers and a whole lot of empathy.  Learn specific strategies for successfully ministering to and with youth in crisis.  Explore the caring and sensitive side of working effectively with teens experiencing both normal and extreme crisis situations.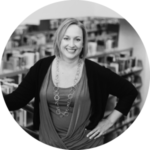 Bio: Rebecca is "DCE Mom" to four boys with her husband Kyle and serves as Director of the DCE Program at Concordia University Irvine.  Prior to CUI she served as a Director of Christian Education for 15 years in life-span education roles working with Children, Youth, Family and Older Adults throughout the country (Idaho, Kentucky, Arkansas, Florida).  Her service to the body of Christ includes speaking at youth gatherings, conferences and serving as Associate Director of Crosswise Institute.
---
Youth and adult sessions recorded at the 2019 LCMS Youth Gathering in Minneapolis, Minnesota. For more information about the Gathering, visit www.lcmsgathering.com.