It's Christmas cookie season! Who's hungry?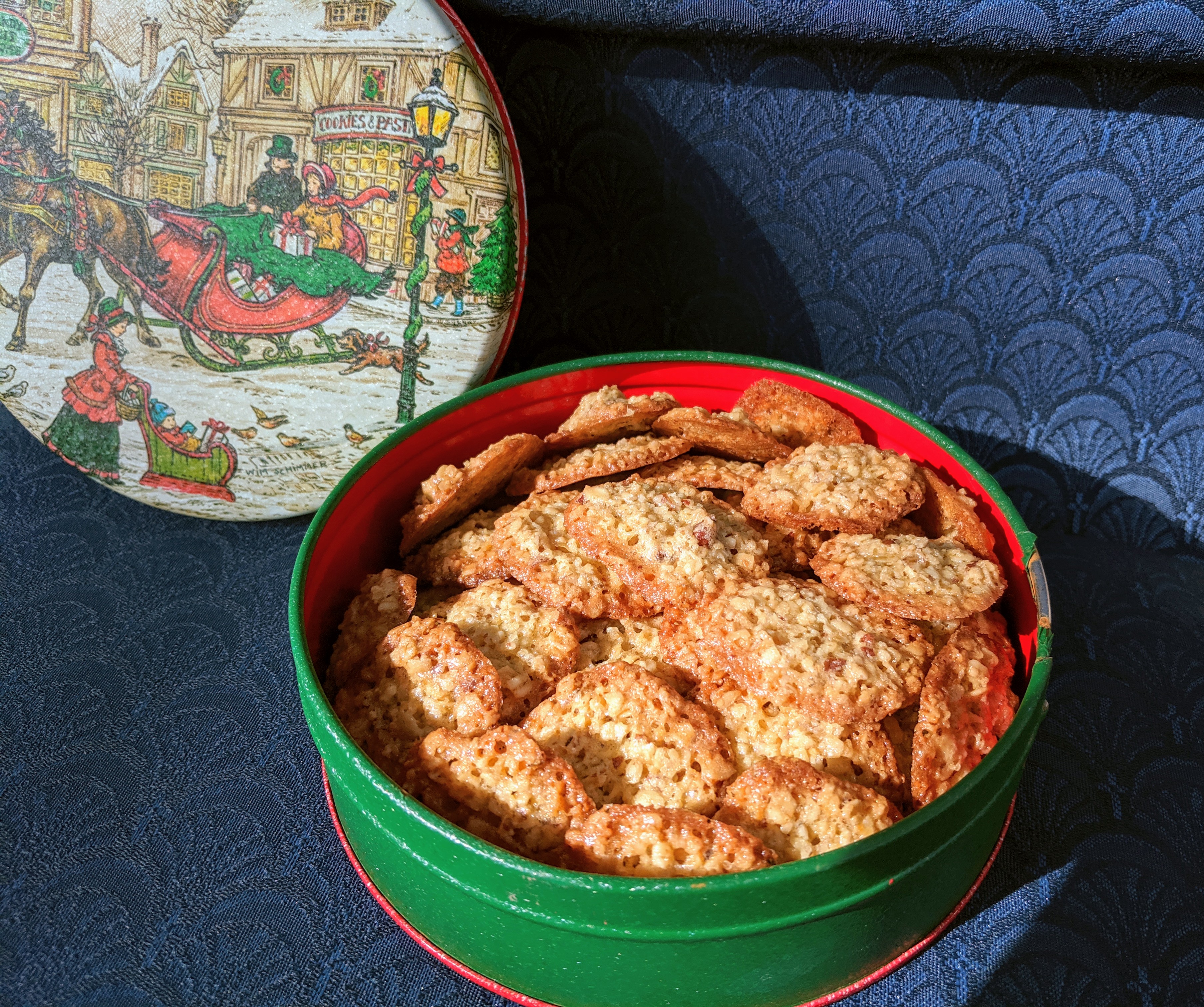 In this installment of Erin's Recipe Card, Erin goes beyond the beloved-but-mundane sugar cookie to introduce Bri, Rachel and Sarah to a new-to-them Christmas classic: the lace cookie. Blending flour, sugar, oats, nuts and lots of butter (never margarine!) into a satisfyingly crunchy treat, Erin's latest recipe is sure to be a sweet addition to seasonal cookie trays.
While they nibble, the Ladies also wax lyrical about their own favorite Christmas cookie memories and recipes. From thumbprints to no-bakes, peanut blossoms to pfefferneuse, podcasting doesn't get much sweeter than this.
---
Lace Cookies
from Sherry Hoskins
Download original Lace Cookie Recipe PDF here.
Ingredients
1 1/2 cups quick oats (1 1/4??)
1 stick margarine butter
3/4 cup sugar
1/2 teaspoon salt
1 Tablespoon flour
1 teaspoon baking powder
1 large egg, slightly beaten
1 teaspoon vanilla
1/2 cup chopped pecans
Directions
Preheat oven to 350°.
Melt butter and pour over oats. Stir by hand until combined.
Combine sugar, salt, flour, and baking powder. Fold into the oats and butter.
Add the egg, vanilla, and pecans and mix until combined.
Cover cookie sheet with parchment paper.
Drop batter by 1/2 teaspoon into quarter-sized mounds.
Bake at 350° for about 11 minutes or until edges turn slightly brown.
Slide off parchment paper with spatula when partially cool.
Cool completely and store in airtight container.
Try not to eat them all in one sitting. (editor's note.)
---
Connect with the Lutheran ladies on social media in The Lutheran Ladies' Lounge Facebook discussion group (facebook.com/groups/LutheranLadiesLounge) and follow Sarah (@mrsbaseballpants), Rachel (@rachbomberger), Erin (@erin.alter), and Bri (@grrrzevske) on Instagram.
---
The Lutheran Ladies Lounge is the podcast produced by KFUO Radio and hosted by Sarah Gulseth, Erin Alter, Rachel Bomberger, and Bri Gerzevske. Created for Lutheran ladies to have a place to escape to with inviting conversations, laughter, and fellowship with Lutheran sisters, we invite all of you Lutheran ladies to join Sarah, Erin, Rachel, and Bri on the sofa in the Lutheran Ladies Lounge to sit, rest your feet, and stay a while. If you're a Lutheran lady, join us in our Facebook group: facebook.com/groups/LutheranLadiesLounge.