Blind but Now I Can See!
Everyone has trials and struggles and sometimes it's hard to have faith in God when life is tough. P. G. was born blind and it's never been easy. However, God gave him the miracle of vision. Our struggles aren't meant to destroy us they're meant to create a pathway to where God can do a miracle and show how his power will knock your socks off. Struggling? Come get your vision like P. G.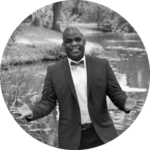 Bio: Pastor Manning is the pastor of Broadmoor Community Church ( an LCMS congregation) in New Orleans where he has energetically served the "Big Easy" for 7 years. P. G. has an incredible testimony that unravels God's plan through a life of homelessness, abuse and disease. He has taken his story of triumph through Christ as far South as Australia and as far North as Norway. God has made his entire life a miracle.
---
Youth and adult sessions recorded at the 2019 LCMS Youth Gathering in Minneapolis, Minnesota. For more information about the Gathering, visit www.lcmsgathering.com.