You are Here…to Witness
As a believer in Jesus you are His witness wherever God has placed you. High school can be a challenging place to be a witness of Jesus, but if that's where you are that's where you're meant to be His witness. Let's talk about what that means and how you can better meet the challenges and experience the joys of witnessing in your vocation as a high school student.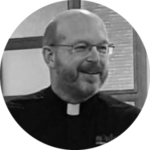 Bio: Pastor Wood serves in the LCMS Office of National Mission as the director of Witness & Outreach and Revitalization. He is the creator of the Every One His Witness and re:Vitality programs. A 2000 graduate of Concordia Theological Seminary, he earned a Doctor of Ministry degree from Reformed Theological Seminary in 2017. He and his wife Mary Ellen have five adult children, six grandchildren, and three great-granddaughters.
---
Youth and adult sessions recorded at the 2019 LCMS Youth Gathering in Minneapolis, Minnesota. For more information about the Gathering, visit www.lcmsgathering.com.