Real Present Promises in Life's Hills and Valleys
We live at a fascinating time of history. There is much to be excited about. Yet, there is much that challenges our Christian faith. How do we live our Christian identity in a culture that blurs what is right and wrong and says you can do whatever makes you feel good? Come explore how the sacraments of Holy Communion and Baptism give us confidence and hope for every life amid these exciting and chaotic times.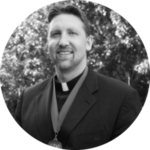 Bio: Pastor Lucas Woodford is the District President of the MN South District of the LCMS. Prior to this he served as pastor for 15 years (in WI and MN). He is also an author (books and articles) and adjunct seminary professor. Pastor Lucas and his wife, Rebecca, are parents of Bella (2003), Thaddeus (2007), Aletheia (2009), Klaci (2012), Soteria (2014) and Titus (2017). He enjoys reading, writing, hunting, fishing, and spending time with his family.
---
Youth and adult sessions recorded at the 2019 LCMS Youth Gathering in Minneapolis, Minnesota. For more information about the Gathering, visit www.lcmsgathering.com.