"Just as I am, without one plea, but that Thy blood was shed for me." So says the nineteenth-century hymn-writer. We have a new setting of this old text. Also, authentic, contemporary gospel music from a St. Louisan. Plus we'll devote a major portion of the hour to one of the most beautiful pieces ever written: the Requiem by Gabriel Faure.
---
Music List
THEME: CBS MDK 44651
JOHANN SEBASTIAN BACH: "My Spirit Be Joyful" from Cantata 146
Philharmonia Virtuosi of New York/Richard Kapp
1.  Messiah College Concert Choir. "To Thee We Sing"3'05
available from Messiah College Dept of Music, Grantham PA 17027
BOB CHILCOTT: Just As I Am
Messiah College Concert Choir/Linda Tedford
2.  Chicago Choral Artists. "Ain'-a That Good News"3'52
available from Chicago Choral Artists, 4334 N. Hazel, Suite 109, Chicago, IL 60613
ROBERT RAY:  Acclamation, Hallelujah Praise the Lord, from Gospel Mass
Chicago Concert Artists/Bart Bradfield
3. Naxos 8.5571303'36
ANDREW LLOYD WEBBER: Pie Jesu from Requiem
Stephanie Lawrence, soprano; James Rainbird, boy soprano;
Stephan Hill Singers; Royal Philharmonic/Michael Reed
4. Naxos 8.5571305'03
JOHN RUTTER: The Lord is My shepherd from Requiem
Choir of Clare College, Cambridge, City of London Sinfonia/Timothy Brown
Elin Manahan Thomas, soprano
5.  Brentwood Music 01241-47013-2 "Voce"9'28
SAMUEL BARBER: Agnus Dei
Choir of Trinity College, Cambridge/Richard Marlow
6.  Conifer Classics 74321-15351-221'22
GABRIEL FAURÉ:  Requiem
Sanctus (3'26), Pie Jesu (3'55), Agnus Dei (5'57), Libera me (4'25),
In Paradisum (3'39)
Choir of Trinity College, Cambridge; London Musici/Richard Marlow;
Camilla Otaki, soprano; Mark Griffiths, baritone
THEME
---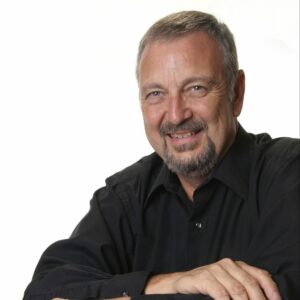 About the host: Ron Klemm's radio career has spanned six decades. He came to KFUO in 1978, serving as Program Director and then Operations Manager for the former CLASSIC 99 and CLASSIC99.com (KFUO-FM), before retiring in 2013.
Past President of the Classical Music Broadcasters Association, a national organization of classical music broadcasters, Ron was—and continues to be—a champion for the arts in Saint Louis. Among other organizations, Klemm was the voice of the Saint Louis Symphony live broadcasts and concert previews.
Ron's greatest love is church music and sacred classics. Klemm established the program JOY in mid-80s, an hour that became one of St. Louis's longest running musical programs, continuing for two additional years on CLASSIC99.com after the sale of KFUO-FM in 2010.
Contact Ron via email: JOY@KFUO.org
---
Described as an hour featuring the "JOY expressed in some great music," Ron Klemm weaves sacred classics from history's finest composers, together with sparkling arrangements of hymns and church anthems, into a colorful fabric of musical delight. Brief, heartfelt commentary focuses the listener's attention on the text: some in familiar settings, others not as well known. Ron's experience with and love for classical and church music makes for an inspiring hour of priceless musical gems.