We're hearing a lot about hand-washing these days. Appropriate enough. Imagine what might happen if—when things return to normal—we would get together for a meal with friends, and—before we give thanks—we would offer to wash our guest's feet. Strange as it sounds, it was our Savior's seal of his wondrous, saving love. For His friends—for us—He gave His life. Our music today is poignant—have the tissues handy. But it is necessary for us to hear. And remember: the victory has already been won!
Image: Stained glass depicting the Paschal Lamb on Thursday, March 5, 2020, at Heavenly Host Lutheran Church, Cookeville, Tenn. LCMS Communications/Erik M. Lunsford
---
Music List
THEME: CBS MDK 44651
JOHANN SEBASTIAN BACH: "My Spirit Be Joyful" from Cantata 146
Philharmonia Virtuosi of New York/Richard Kapp
1.  VUCA Media VMCD1014 "In Thy Light" 4:45
arr. DAVID CHERWIEN: At the Lamb's High Feast We Sing
Valparaiso University Kantorei/Lorraine S Brugh; Michael Weimer, trumpet
2. Virgin Classics 7243 5 45183 2 4 "An Apostrophe to the Heavenly Hosts" 5:00
HEALY WILLAN: Tenebrae of Maundy Thursday:
I. Jerusalem/On the Mount of Olives; II. My Soul Is Exceedingly Sorrowful
Vancouver Chamber Choir/Jon Washburn
3. Telarc CD-80325 "Amazing Grace"  4:00
arr. ROBERT SHAW/ALICE PARKER: Wondrous Love
Robert Shaw Festival Singers/Robert Shaw
4. Philips 412 631-2 "Spirituuals"  3:26
arr. HOWARD ROBERTS: Let Us Break Bread Together on our Knees
Simon Estes, bass; Howard Roberts Chorale/Howard Roberts
5. EMI Classics 7243 5 57026 2 3 "Best Loved Hymns"  3:27
JOHN IRELAND: My Song Is Love Unknown
Choir of King's College, Cambridge/Stephen Cleobury
6. Pan Galactic CPC-2012 "Tune My Heart"  4:02
RALPH VAUGHAN WILLIAMS: Organ Prelude on "Rhosymedre"
Philip Rowland, organ
7. Central Pres CPC77004CD "Ring"  3:53
arr. HART MORRIS: Jesus, Lover of My Soul
Chancel Ringers (Central Presbyterian Church, Clayton, MO)/Ruth Boothe
8. Priory PRCD 257 "Great Cathedral Anthems"  6:36
JOHN IRELAND: Greater Love Hath No Man
Choir of Guildford Cathedral/Andrew Millington
9. Greenville College "Praise to the Lord" 8:14
arr. J. & W. WILSON: "And Can It Be" (4:23)
arr. LARRY FLEMING: "Give Me Jesus" (3:51)
Greenville College Choir/Jeffery S. Wilson
10. Telarc CD-80579 "The Sound of Glory"  9:07
arr. MACK WILBERG: The King of Love My Shepherd Is (3:00)
arr. MACK WILBERG: Love Divine, All Loves Excelling (6:07)
Choir and Orchestra at Temple Square/Craig Jessop
THEME
---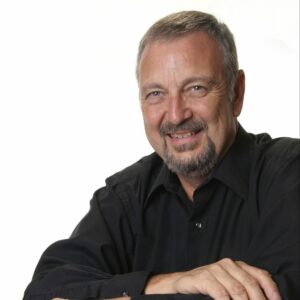 About the host: Ron Klemm's radio career has spanned six decades. He came to KFUO in 1978, serving as Program Director and then Operations Manager for the former CLASSIC 99 and CLASSIC99.com (KFUO-FM), before retiring in 2013.
Past President of the Classical Music Broadcasters Association, a national organization of classical music broadcasters, Ron was—and continues to be—a champion for the arts in Saint Louis. Among other organizations, Klemm was the voice of the Saint Louis Symphony live broadcasts and concert previews.
Ron's greatest love is church music and sacred classics. Klemm established the program JOY in mid-80s, an hour that became one of St. Louis's longest running musical programs, continuing for two additional years on CLASSIC99.com after the sale of KFUO-FM in 2010.
Contact Ron via email: JOY@KFUO.org
---
Described as an hour featuring the "JOY expressed in some great music," Ron Klemm weaves sacred classics from history's finest composers, together with sparkling arrangements of hymns and church anthems, into a colorful fabric of musical delight. Brief, heartfelt commentary focuses the listener's attention on the text: some in familiar settings, others not as well known. Ron's experience with and love for classical and church music makes for an inspiring hour of priceless musical gems.