Rev. Dr. Mark Koschmann joins Rev. Mark Kiessling and DCE Julianna Shults to talk about the importance of vocation for youth ministry and his resource "Leading Lives that Matter". They will discuss how to guide young people as they discover their purpose in life and plan for the future by deepening their understanding of vocation. Learn about Concordia St. Paul at csp.edu. Find the LCMS Youth Ministry resource website at youthesource.com.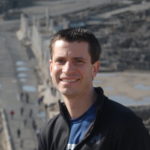 Bio: Rev. Dr. Mark Koschmann serves as Assistant Professor of Theology and Ministry and the Hoffmann Mentoring Initiatives Director at Concordia University in St. Paul, Minnesota. Dr. Koschmann teaches courses on Christian mission and outreach, world religions, and a special course offering for students taking part in the Hoffmann Mentoring Initiative called, "Faith and Justice in the City." He also teaches courses specifically related to Concordia's Director of Christian Outreach program.
---
End Goals is the podcast of LCMS Youth Ministry in the Office of National Mission. LCMS Youth Ministry Staff discuss practices for healthy youth ministry and interview practitioners who provide insight for experienced and new youth leaders.