In this episode, Rev. Stephen Heimer, Pastor of Zion Lutheran Church in El Paso, Texas, and Mission Facilitator at Ysleta Lutheran Mission Human Care, joins hosts Rev. Dr. Steve Schave, Director of LCMS Church Planting, and Rev. Dr. Mark Larson, Manager of Church Planting in the Mission Field: USA initiative, to explore how mercy and outreach, both commanded by Jesus, work together to fulfill His mission. The Great Commission calls us to reach all people for Christ. The Great Commandment calls us to love all people, especially the poor, in word and deed.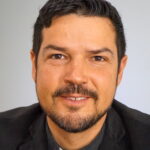 About Rev. Stephen Heimer: Stephen Heimer is pastor at Zion Lutheran Church in El Paso, Texas, also teaching and leading worship each week at Iglesia de la Santa Biblia in Anapra, Mexico.  These congregations, working closely with Ysleta Lutheran Mission Human Care (YLM), provide help to people in need on both sides of the border.
Stephen served on staff at YLM from 1996 to 2019 in areas of outreach, communications, and as Chief Operating Officer during a variety of natural, human, and economic disasters that affected the border region. Stephen is married to Krysia Heimer who has earned an MA in Christian Outreach from Concordia University St Paul. Both are founding members of Adelante Ministries and Mariachi San Pablo, sharing the Gospel and assisting congregations in evangelism and outreach throughout the United States and northern Mexico.  They are parents of five children ages 2 to 12.
---
Sign up to receive email notifications of new podcast releases and other church-planting ministry news. Registration only requires your email address, name and zip code. Check the "Church Planting" option on the form.
Sign up > mailchi.mp/lcms/resources
---
The "Mission Field: USA – Church Planting" podcast series, provided by The Lutheran Church—Missouri Synod's Office of National Mission, offers a theological background and best practices for launching new congregations and ministries within a Lutheran framework.