The years at college are formative, shaping the worldview and faith of students for their entire lives. What is at stake?
In this episode, Rev. Marcus Zill, Director of Campus Ministry and LCMS U for the LCMS, joins hosts Rev. Dr. Steven Schave, Director of LCMS Church Planting, and Rev. Dr. Mark Larson, Manager of Church Planting in the Mission Field: USA initiative, to explore why campus ministry is vital for the future of the church and how your ministry can be involved.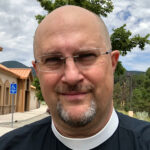 About Rev. Marcus Zill: The Rev. Marcus T. Zill serves as the director of Campus Ministry and LCMS U. He facilitates connectivity among those engaged in campus ministry; oversees campus ministry conferences, training events and the development of related resources; hosts a campus ministry related radio program through KFUO called The Student Union, and provides support and consultation for the growing number of LCMS campus ministries and for those who wish to develop campus outreach.
Prior to beginning work in this position in July 2014, Zill served for more than 15 years as the full-time campus pastor at St. Andrew's Lutheran Church and Campus Center in Laramie, Wyo., working with students at the University of Wyoming. During that time, he also helped found Higher Things, a youth-oriented Recognized Service Organization, and served for seven years as its Christ on Campus Executive.
Zill and his wife, Bethany, have two sons, Sterling and Grant. The Zill family lives in Albuquerque, N.M.
---
Sign up to receive email notifications of new podcast releases and other church-planting ministry news. Registration only requires your email address, name and zip code. Check the "Church Planting" option on the form.
Sign up > mailchi.mp/lcms/resources
---
The "Mission Field: USA – Church Planting" podcast series, provided by The Lutheran Church—Missouri Synod's Office of National Mission, offers a theological background and best practices for launching new congregations and ministries within a Lutheran framework.