Christ's call to "make disciples" includes helping recently connected people to identify with and feel ownership in the ministry.
In this episode, Rev. Dr. Heath Trampe, Senior Pastor of Our Savior Lutheran Church, Minot, North Dakota, joins hosts Rev. Dr. Steven Schave, Director of LCMS Church Planting, and Rev. Dr. Mark Larson, Manager of Church Planting in the Mission Field: USA initiative, to explore how ministries can integrate newcomers into the life of the Body of Christ.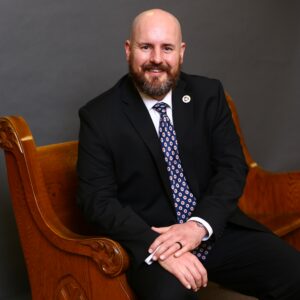 About Rev. Dr. Heath Trampe: Rev. Dr. Heath Trampe serves as Senior Pastor at Our Savior Lutheran church in Minot, North Dakota.  He earned his M.Div. (2010) and D.Min. (2015) from Concordia Theological Seminary.  His dissertation is entitled: "Forming Servant Leaders: Increasing Congregational Involvement in The Lutheran Church—Missouri Synod."
Trampe has spoken as Plenary at the Synod RSTM Conference and has contributed as a Content Expert to the upcoming Re:Vitality module "Members of One Body."  Trampe served as Secretary of Floor Committee #12 at the 2019 Synod Convention under the leadership of Rev. Dr. Roger Paavola.  He was recently assigned to the North Dakota District Witness Task force for Planting and Revitalizing Congregations by President Arie Bertsch.
Trampe has been married to Andrea (Kahle) since 2005, and they have two sons: Jonathan (10) and Andrew (7).
---
Sign up to receive email notifications of new podcast releases and other church-planting ministry news. Registration only requires your email address, name and zip code. Check the "Church Planting" option on the form.
Sign up > mailchi.mp/lcms/resources
---
The "Mission Field: USA – Church Planting" podcast series, provided by The Lutheran Church—Missouri Synod's Office of National Mission, offers a theological background and best practices for launching new congregations and ministries within a Lutheran framework.