Dr. John Lennox, professor emeritus of mathematics at the University of Oxford and internationally renowned speaker and author, joins Andy and Sarah to talk about the Against the Tide documentary, how we can approach conversations about science and faith, the connections between science and faith, and why it's important to ask questions and be curious. Learn more about Against the Tide at againstthetide.movie and find tickets for limited Fathom Event Nov. 19 and 23 at fathomevents.com/events/against-the-tide.
---
About Against the Tide: Against the Tide is a new feature-length documentary on the life, work, and mission of legendary University of Oxford professor, mathematician, and philosopher Dr. John Lennox.  Lennox has devoted a lifetime in a rigorous investigation of the critical question "Do science and history refute the validity of the Bible and the Christian worldview?"  
In Against the Tide, veteran Hollywood actor and director Kevin Sorbo (Hercules, God's Not Dead, Let There Be Light) outlines some of the most challenging accusations that science makes against scripture. Through compelling conversations and visual explorations, Professor Lennox sets the record straight, as he stands against the tide of disinformation and proclaims the undeniable Truth.  Created by Pensmore Films, Against the Tide takes viewers on a journey from Oxford to Israel as Lennox and Sorbo unpack theological and scientific evidence of God, culminating in the Holy Land to experience the verifiable evidence about the life and resurrection of Jesus Christ.  
Viewers will be educated, informed, and edified in their faith, giving them the confidence and tools to defend their own faith as they also stand Against The Tide.
---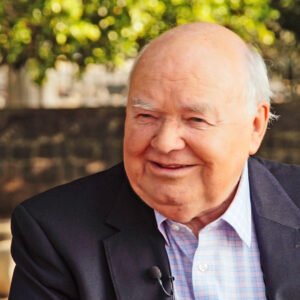 About John C Lennox: Dr. John Lennox, professor emeritus of mathematics at the University of Oxford, is an internationally renowned speaker and author. His books, which span the fields of science, philosophy, and religion, include God's Undertaker: Has Science Buried God?, God and Stephen Hawking, Can Science Explain Everything?, Gunning for God, Where Is God In A Coronavirus World? and, 2084: Artificial Intelligence, the Future of Humanity, and the God Question. Prof. Lennox has traveled the world defending the rationality of Christianity and belief in God, and has debated some of the world's most prominent atheists, including Richard Dawkins, Christopher Hitchens, and Peter Singer. Throughout, Lennox stands firm: "Properly understood, the evidence inexorably points to the existence of a creator God."
---
The Coffee Hour is underwritten by Concordia University Wisconsin. Live Uncommon. Learn more at cuw.edu.
Have a topic you'd like to hear about on The Coffee Hour? Contact Andy Bates at andrew.bates@kfuo.org or call 314-996-1519.