In their latest "Iron Ladle Challenge," the Lutheran Ladies each try their hand at making a tasty contribution for that most Lutheran of culinary events: the after-church coffee hour.
Erin leads off with a plate of picture-perfect, sweet and savory apple-cheddar scones, while Sarah samples a new-to-her, vegan- and allergy-friendly blueberry-almond cookie. Bri goes rogue with a vanilla bean syrup sure to fancy up even the plainest and most austere church coffee, and Rachel 'fesses up after smoking out her house with a disastrous (yet somehow still delicious) batch of coffee cake muffins.
Laugh along (and learn from Rachel's mistakes) as you glean a few appetizing ideas for your next turn at coffee hour baking.
---
Erin's Apple Cheddar Scones
Read the full recipe at smittenkitchen.com/2010/10/apple-and-cheddar-scones.
Makes 6 generous scones
Ingredients
2 firm tart apples
1 1/2 cups all-purpose flour
1/4 cup sugar plus 1 1/2 tablespoons for sprinkling
1/2 tablespoon baking powder
1/2 teaspoon salt plus additional for egg wash
6 tablespoons unsalted butter, chilled and cut into 1/2-inch cubes plus additional for baking sheet if not lining it with parchment
1/2 cup sharp cheddar, shredded (white is recommended, I assume for aesthetics)
1/4 cup heavy cream
2 large eggs
Instructions
Position a rack at the center of oven and preheat oven to 375 °F. Line baking sheet with parchment paper.
Peel and core apples, then cut them into one-sixteenths. (I assumed this meant chunks, not slivers.) Placed them in a single layer on a baking sheet lined with parchment paper and bake them until they take on a little color and feel dry to the touch, about 20 minutes. They will be about half-baked. Let them cool completely. (You can speed this up in the fridge, as I did.) Leave oven on.
Sift or whisk flour, sugar, baking powder and salt together. Set aside. Place butter in the bowl of an electric mixer with a paddle attachment, along with cooled apple chunks, cheese, cream and one egg. Sprinkle flour mixture over the top and mix on low speed until the dough just comes together. Do not overmix.

[Don't have a stand or hand mixer? I'd rub the cold butter into the flour mixture with my fingertips or with a pastry blender, hand-chop the apples coarsely and mix the rest together with a wooden spoon until combined. It might feel awkward, but it should all come together. Again, don't overmix it though it will be harder to do this by hand.]

Generously flour your counter top and place the scone dough on top of it. Sprinkle with flour. Use a rolling pin to gently roll (or use your hands to pat) the dough into a 1 1/4-inch thick, 6-inch circle. Cut circle into 6 wedges. Transfer them to a baking sheet that has either been buttered or lined with a fresh sheet of parchment paper. Leave at least 2 inches between each scone.
Beat remaining egg in a small bowl with a pinch of salt. Brush the scones with egg wash and sprinkle them with remaining tablespoon of sugar. Bake until firm and golden, about 30 minutes. With a spatula, lift them to a wire rack to cool for 10 minutes. Before you eat one, make sure you realize how addictive they might be. Once you've got that down, go for it anyway.
Do ahead: Scones are best the day they are baked. However, they can be made ahead of time and stored unbaked in the freezer until you need them. Simply brush them with the egg wash and sprinkle them with sugar, and bake them still frozen for just a couple extra minutes. This way they are always freshly baked when you want them. These scones were passable on day two and terrible on day three.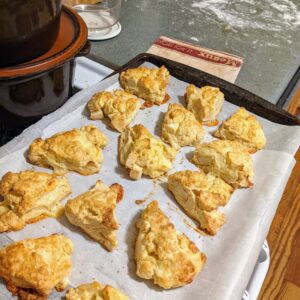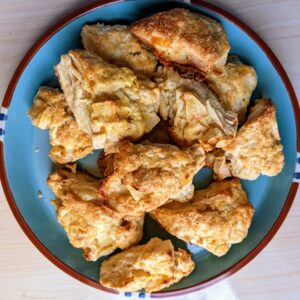 ---
Bri's Vanilla Coffee Syrup
Recipe from mybakingaddiction.com/homemade-vanilla-coffee-syrup.
Ingredients
1 3/4 cups water
1 1/2 cups granulated sugar
1/2 cup packed light brown sugar
1 vanilla bean, split in half
2 teaspoons vanilla extract
Instructions
In a medium saucepan over medium-high heat, whisk together water, sugar, and vanilla bean.
Bring to a boil and reduce heat.
Simmer for about five minutes – the sugar should be completely dissolved.
Remove from heat and stir in vanilla extract.
Once simple syrup has cooled, remove the vanilla bean and pour the syrup into a glass jar or bottle.
Store in refrigerator.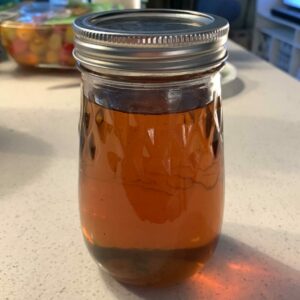 ---
Sarah's Blueberry Almond Cookies
Edited from the original recipe from Simple Veganista: simple-veganista.com/almond-flour-thumbprint-cookies.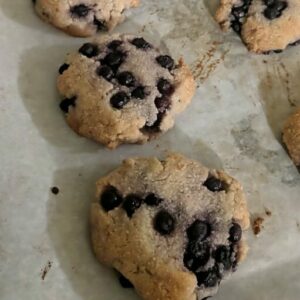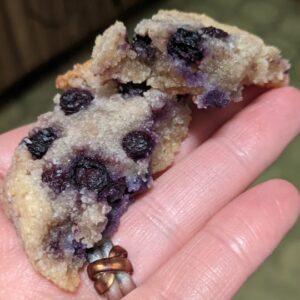 ---
Rachel's Coffee Cake Muffins
Ingredients
Begin with your favorite basic muffin batter. Here's mine:
2 c. flour
½ c. sugar
tsp. baking powder
½ tsp. salt
¾ cup milk or cream
½ cup melted butter
2 large eggs
Instructions
Mix dry and wet ingredients separately before combining.
Make a cinnamon streusel topping by mixing softened butter, brown sugar, cinnamon, nutmeg, and a little flour (measurements to taste).
Fill greased muffin cups 1/3 fill with muffin batter. At a table spoon or so of streusel. Add more batter on top. Optional: top with more streusel. Handy hint: DO NOT OVERFILL.
Bake at 350 for approximately 20 min.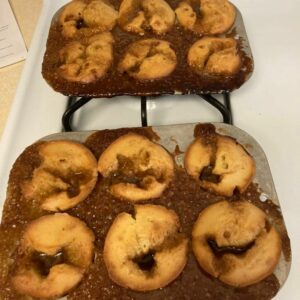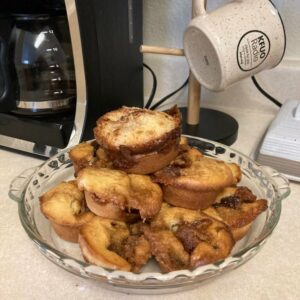 ---
Connect with the Lutheran Ladies on social media in The Lutheran Ladies' Lounge Facebook discussion group (facebook.com/groups/LutheranLadiesLounge) and on Instagram @lutheranladieslounge. Follow Sarah (@hymnnerd), Rachel (@rachbomberger), Erin (@erinaltered), and Bri (@grrrzevske) on Instagram!
Sign up for the Lutheran Ladies' Lounge monthly e-newsletter here, and email the Ladies at lutheranladies@kfuo.org.
---
The Lutheran Ladies Lounge is the podcast produced by KFUO Radio and hosted by Sarah Gulseth, Erin Alter, Rachel Bomberger, and Bri Gerzevske. Created for Lutheran ladies to have a place to escape to with inviting conversations, laughter, and fellowship with Lutheran sisters, we invite all of you Lutheran ladies to join Sarah, Erin, Rachel, and Bri on the sofa in the Lutheran Ladies Lounge to sit, rest your feet, and stay a while. If you're a Lutheran lady, join us in our Facebook group: facebook.com/groups/LutheranLadiesLounge.