Rev. Dr. Michael Paul — theological educator in Asia with LCMS International Mission, serving in Taiwan, and Rev. Dr. Matthew Heise — Executive Director of Lutheran Heritage Foundation, join Andy and Sarah to talk about the new Chinese translation of the Book of Concord, how this project was started, why it was important for Lutheran Heritage Foundation to be involved, other Lutheran theological resources available in the Chinese language, and how this translation will be very useful for those who speak the Chinese language. Learn more about Lutheran Heritage Foundation at lhfmissions.org and contact Dr. Paul at michael.paul@lcms.org for more information about this translation project.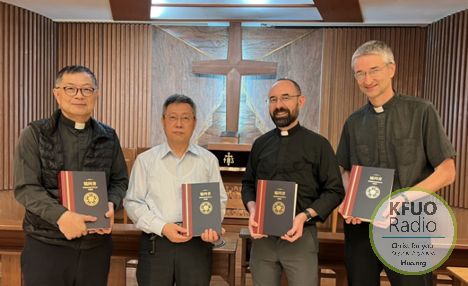 ---
The Coffee Hour is underwritten by Concordia University Wisconsin. Live Uncommon. Learn more at cuw.edu.
Have a topic you'd like to hear about on The Coffee Hour? Contact Andy Bates at andrew.bates@kfuo.org or call 314-996-1519.