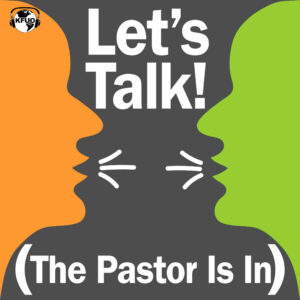 We welcome guest pastor Rev. Philip Zielinski from St. Paul Lutheran Church in Valley City, Ohio. He and host Kip Allen dive into the following questions:
Do you run into misconceptions and myths about Christians and other people of faith?
Should Christian faith disqualify someone from civil service? (Related to Senator Bernie Sanders questioning)
How should small businesses handle doing business with people whose lifestyles they don't agree with?
How do we as Christians respond to discrimination of other Christians?
What are your favorite parts of the church service?
Is it different for a pastor baptizing an older child or adult rather than a baby?
What's the difference between Lutheran and Roman Catholic view of Holy Communion?
How do Lutherans view the bread and wine differently than other denominations?
Why do we have closed communion? How do you tell someone they can't take communion?
Send us your questions! Email letstalk@kfuo.org with your questions for our guest pastors.
Music for "Let's Talk! The Pastor Is In" is Rev. Fred Baue's rendition of "All Glory, Laud, and Honor" on his album "The Great Dance, Church Music for Guitar." Find this album and more of Rev. Baue's music and books, including his latest, "The Pilgrim" at PergolaPress.com.