Guest Camille Smith, RD, LD, Nutrition Educator with the STL District Dairy Council, brings us delicious recipes of cheese and hot cocoa with our guest taste test panel of students from Lutheran High School North in St. Louis, Missouri: Taylor, Katelyn, Taylor, and Isaiah. Learn more about the STL District Dairy Council at stldairycouncil.org or at facebook.com/StLouisDairyCouncil. Find the recipes below!
Watch the episode (and the great facial expressions!) on Facebook Live –
Apple Pecan Baked Brie
Prep time: 5 minutes
Cook time: 25 minutes
Total time: 30 minutes
Ingredients:
1 sheet puff pastry dough
1 (8 oz.) round of brie cheese
1/3 c. apple butter
¼ c. pecans
1 egg
1 Tbsp. water
Instructions:
Thaw puff pastry dough and roll to desired size (large enough to completely cover brie).
Place pecans in center of dough; top with apple butter.
Place cheese on top of pumpkin butter. Wrap dough around the cheese, pinch seams to seal.
Whisk egg and water together and brush on seams.
Gently place seam side down on baking sheet lined with parchment paper.
Decorate top with additional pecans or dough.
Bake at 400 degrees for 25 minutes or until golden brown.  Serve warm with crackers or fruit.
DIY Cocoa Mix
1 part cocoa powder
1.5 parts sugar
Minty White Hot Chocolate
2 cups milk
4 oz white chocolate
½ teaspoon vanilla
3 tablespoons crushed candy cane
Whipped cream and additional crushed candy cane optional for topping
Add milk, broken up chocolate pieces, vanilla, and crushed candy cane to saucepan. Heat at medium temperature, stirring constantly until all ingredients are melted and dissolved. Top with whipped cream and candy cane pieces. Serves 2.
---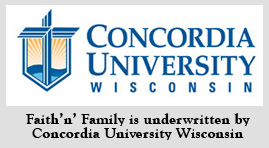 Send in your family questions to Family@kfuo.org or call host Andy Bates at (314) 996-1519.
---