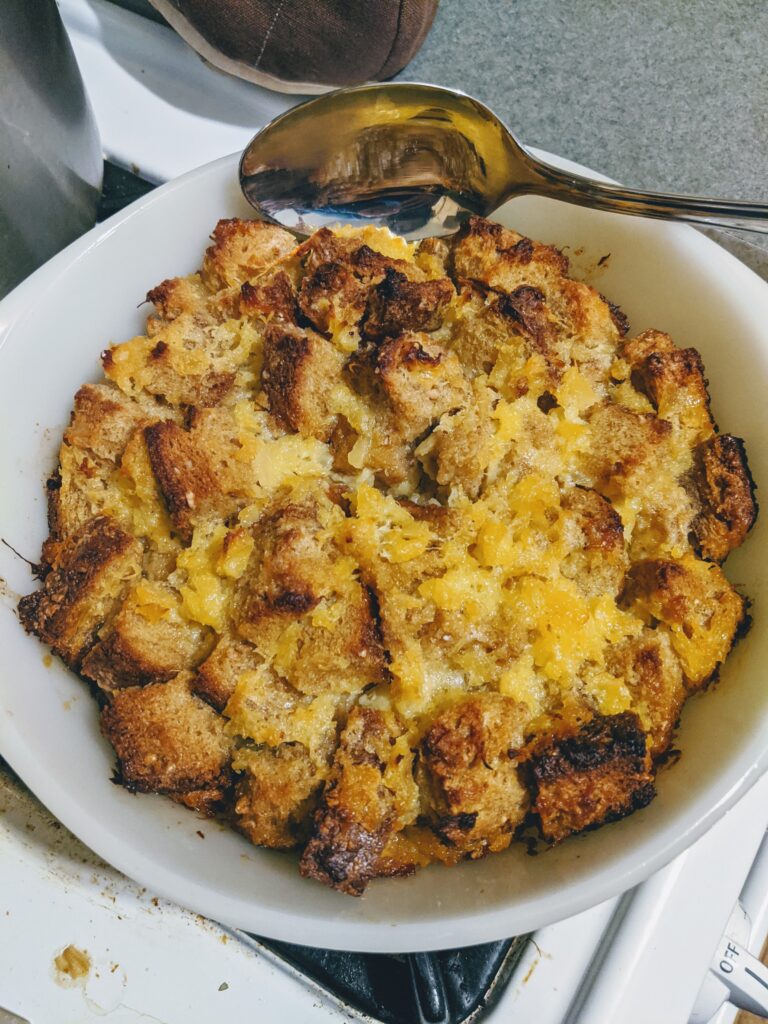 Q: When is a dessert not a dessert?
A: When you call it a dressing and serve it as a side!
In the latest installment of Erin's Recipe Card, Erin introduces Rachel and Bri to the buttery, sweet-and-savory goodness of pineapple dressing.
Pair it with ham or pork loin for Easter dinner, or add bacon and brown sugar to tailor-bake a tasty twist on the Easter brunch casserole. Either way, the pan is sure to be empty at the end of the meal (as Erin's on-air taste-testers can whole-heartedly testify).
Pineapple Dressing recipe (click to download PDF)
½ cup butter
1 cup sugar
4 eggs
1 cup crushed pineapple
5-6 slices of bread, cubed
– Cream butter, sugar, and eggs. Stir in pineapple, fold in bread cubes.
– Bake uncovered in 1.5 quart casserole at 350° for 1 hour.
– Delicious with ham!
Click to discover more of Erin's tasty, church-lady-approved recipes.
---
Connect with the Lutheran ladies on social media in The Lutheran Ladies' Lounge Facebook discussion group (facebook.com/groups/LutheranLadiesLounge) and follow Sarah (@mrsbaseballpants), Rachel (@rachbomberger), Erin (@erin.alter), and Bri (@grrrzevske) on Instagram.
---
The Lutheran Ladies Lounge is the podcast produced by KFUO Radio and hosted by Sarah Gulseth, Erin Alter, Rachel Bomberger, and Bri Gerzevske. Created for Lutheran ladies to have a place to escape to with inviting conversations, laughter, and fellowship with Lutheran sisters, we invite all of you Lutheran ladies to join Sarah, Erin, Rachel, and Bri on the sofa in the Lutheran Ladies Lounge to sit, rest your feet, and stay a while. If you're a Lutheran lady, join us in our Facebook group: facebook.com/groups/LutheranLadiesLounge.