It's easy to think of life issues just in terms of our local, national level…but what about across our home's borders – on an international level? Are life issues the same from country to country? Or do different countries have a greater or lesser concern for various "life issues?" To remind of us a need for a life ministry that expands across nations' borders is special guest Jamielynn Tinkey Flores, a nurse and missionary in Latin America. She'll talk about how the Christian Church at large must have a faithful and unified voice on life issues, but how the approach may be different from continent to continent.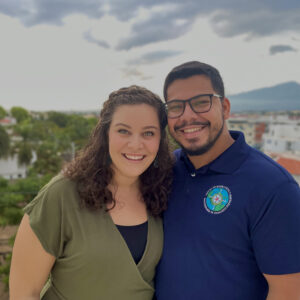 Bio: Jamielynn Tinkey Flores, BSN, RN, is a wife, missionary, deaconess student, nurse and now a podcast guest! Jamielynn has been serving alongside the LCMS Office of International Mission for over five years, serving the Latin America and Caribbean Region, and lives in Santiago, Dominican Republic. Jamielynn currently serves the region's missions and partner churches as the Regional Life Coordinator, advocating for the Lutheran Church's voice for life throughout Latin America. Jamielynn and her husband, Rafael, will be moving this year to serve in the Confessional Lutheran Church of Chile, and are looking forward to how God will use them for His kingdom in this new place.
Find out more about LCMS missionaries and how to support Jamielynn at lcms.org/tinkey.
Listen to "5 Minutes with a Missionary" at kfuo.org/missionarypodcast.

Learn about LCMS Life Ministry at lcms.org/life, and email us at friendsforlife@lcms.org.
Not all the views expressed are necessarily those of the LCMS; please discuss any questions with your pastor.
---
We believe that God is the author and sustainer of all life. We also know it can be hard to speak about the intrinsic value of that life when it feels like the world is trying to drown us out. 
We're right here beside you. In this podcast of The Lutheran Church—Missouri Synod's Life Ministry, we're coming alongside one another as a community of Christ's redeemed people, ones who are speaking up for and living out the sanctity of human life. Together we'll explore life issues in a way that honors our heavenly Father's value of human life, serves our neighbor, and connects us to others who are doing the same. Join us, so that together we can be friends for life.